At Bella's we believe all our guests should be treated like family.
Bella's is a family owned and operated Italian restaurant in Lee's Summit MO, where we serve authentic Northern and Southern Italian cuisine. Great pride is taken in the preparation of our food, and only quality ingredients are used to produce our authentic recipes.
Our mission is to inspire real taste by connecting people to real home made Italian food. At Bella's we wish to offer our own family recipes to create an environment where guest satisfaction is our highest priority. Come celebrate life, food, and family with us!
Check out this article about the launch of Bella's Italian Restaurant in Lee's Summit!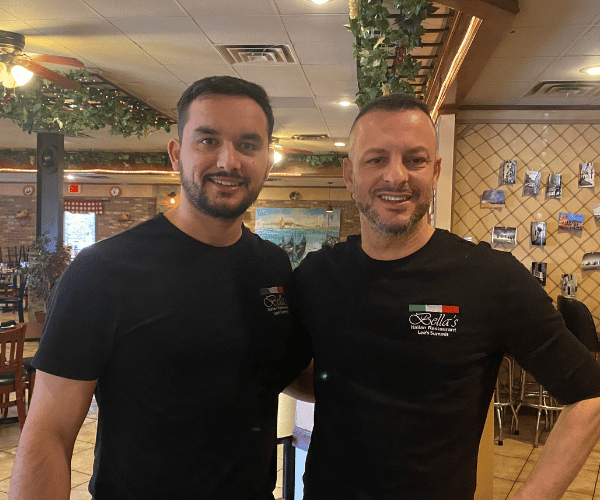 Amazing Customer Service
We pride ourselves on treating our customers like family. 
Fresh Ingredients
We cook our meals from scratch daily, and use quality ingredients in our authentic Italian recipes.
Specialty Orders
It's important that our customers get what they want! If you need your meal served a certain way, just ask!
Our Mission
To inspire real taste by connecting people to real home made Italian food.
Our Story
Bella's is Built on Family
Bella's Italian Restaurant is owned by Limi Veliu, who operates the restaurant with the help of his family: His brother Genci, cousin Dibi, and his wife.
Limi is originally from Bari, Italy, and his mother is Albanian and his father was Italian.  Once Veliu finished school in Europe, he moved to New York to be with his grandparents who had already immigrated to the Bronx from Bari. He joined his Grandparents at their family business, at the original Bella's in the Bronx.
This is where he learned to make many of the dishes that are featured on the menu at Bella's in Lee's Summit, from his Grandmother's original Italian recipes. 
In 1998, Limi and some of the family made their way from the Bronx to Dallas/Fort Worth, TX, where they launched several restaurants.  It was at their Burkburnett TX  restaurant a few years ago where he met Lee's Summit mayor, Bill Baird, who told him he should come to Lee's Summit and open an Italian restaurant.
At the time, Lee's Summit did not have any authentic Italian restaurants!  After a lot of planning, Limi and several of his family members came to Lee's Summit, and launched in October 2019, right before Covid.
They've persevered for several years, and they thrive in gratitude with their strong loyal customers who support them regularly! Their primary vision is to make sure every guest feels like family, has the best customer service, and can request food choices just the way they want them. 
Lee's Summit's New Restaurant is family-owned and serves great Italian Cuisine | April 2020
Westside Life | Winterset's local magazine in Lee's Summit MO
Winterset residents gathered for food, drink and great company at Bella's... read more.
In early March, expectations were high as Winterset residents gathered for food, drink and great company at Bella's Italian Restaurant in Lee's Summit. It was a very special evening as they enjoyed awesome food in the cozy atmosphere in Bella's private dining area. No one left hungry or disappointed as the staff at Bella's took good care of everyone.
The evening started with a brief history of the restaurant by owner, Limi Veliavo. He explained how his grandparents are from Bari, Italy and immigrated to the Bronx, NY, and that's where he learned to make many of the dishes that are featured on the menu at Bella's in Lee's Summit.
From the Bronx, Limi and some of the family made their way to Dallas/Fort Worth, TX, where they have another restaurant. It was at their Texas restaurant a few years ago where he met Lee's Summit mayor, Bill Baird, who told him he should come to Lee's Summit and open an Italian restaurant because at the time, there weren't any Italian restaurants here. So Limi came, saw an opportunity and after many renovations to their current location on Melody Lane, on Oct. 7, 2019, he and his family opened Bella's Italian Restaurant.
Limi moved his family, including his wife and young daughter (she's 3 now), to Lee's Summit from Texas. He also brought many extended family members with him, too. Many of them also work at the restaurant as well, including his mom, his brother Genci (he's the chef), his cousin Dibi (who was one of our servers for the Winterset Night Out) and his cousin Al, who moved to Lee's Summit from New York and also helped served the Winterset group.
And they served us well. We started out by sharing appetizers including stuffed mushrooms that melted in the mouth, bruschetta, garlic cheese bread and fried cheese (mozzarella sticks with marina sauce on the side). But the best part of the evening was the entrees which were all different as every Winterset resident ordered an entrée from the menu.
The residents enjoyed Bella's signature dishes including Chicken Albanese, Lasagna, Lobster Ravioli, pizza and Tortellini Michelangelo and several others. All the dishes at Bella's are made-from-scratch and Limi adds, "If you want us to make something that's not on the menu, just ask. Or you want to change an ingredient or two, we are happy to do it." 
Limi emphasized to the group that they really want to cater to their customers' tastes and unlike some chain restaurants, their food is authentic and original. That was certainly the case the night of the Winterset event.
Here's what some residents had to say about their night out at Bella's:
The Chicken Piccata was tender with a nice lemon butter sauce and good capers.
-Will T.
The Chicken Albanese has a wonderful sauce and the stuffed mushrooms were great.
-Merle N.
The Chicken Alfredo was excellent.
-Mike G.
They offer a variety of Italian dishes, the food is great and so is the service.
-Linda M.
The service was awesome, it's a good value and worth coming and trying.
-Vicki N
In addition to the dishes on the menu, Bella's also offers gluten-free options, a children's menu and catering services for 10 to 100+ people. They have lunch specials from lam to 3pm and their private dining area can seat up to 50 people if you have a large group.
They have a full bar with a good wine selection and they offer take-out, too. They are open Monday-Saturday, 11:00am to 10:00pm; and Sunday: 11:00am to 9:00pm.
Limi says, "We love to host families of all ages, from 1 to 100+ years old. Come dressed casually or dress-up for a night out. All are welcome at Bella's."
We say to Limi and his family, "Welcome to Lee's Summit." And we encourage Winterset neighbors to get out and support this new local, family-owned business.
You will be glad that you did.
Second Anniversary Celebrated by Bella's| Dec 20, 2012
Ribbon Cutting at Burkburnett TX Chamber of Commerce
Burkburnett Chamber of Commerce officials were joined by Burkburnett Development Corporation representatives, city officials and others for a celebratory ribbon cutting ceremony Thursday to mark the second anniversary of Bella's Italian Restaurant. 
In addition to the formal ribbon cutting, the owners and management of the local eatery were presented a plaque by COC officials recognizing the establishment for the success it has enjoyed since opening locally in 2010. The restaurant's ownership/management team includes front (from left) Nick Veliu, Dafina Veliu, Genci Veliu and Lemi Veliu. 
Among the Chamber. BDC and citv officials on hand for the celebration were COC President Dr. Morgan Moore, COC Executive Director Dick Vallon, BC Executive Director Kelly Bolen, Mayor Carl Law, City Manager Tim James and City Commissioners Randy Brewster, Don Hardy and Marguerite Love. 
Located at 414 South Avenue D in Burk Plaza, Bella's Italian Restaurant offers a large complement of fresh, authentic Italian cuisine and pizza. Anchored by a fully-stocked bar, the establishment is open from 11 to 10 Tuesday through Saturdav and on Sundays from 11 to 9. (I/S staff photo by Jeff Bromley)
Bella's brings Italy to Boomtown | Jan 12, 2011
Customer Satisfaction is Priority Number One and Has Steered Restaurant's First Year Success
"That's amore'. The term is being used here to describe a zest for customer satisfaction that has driven the success of Bella's Italian Restaurant. Located on South Avenue D in Burk Plaza, the establishment celebrated its first anniversary last month after formally Opening on Dec. 13, 2010.  
"We've had an outstanding 12 months since our opening, said the restaurant's owner, Limi Veliu. "Here at Bellas's, customer satisfaction not just lip service. It's authentic and the wav we take care of our business – day in and day out.
Veliu is a hands-on owner and is at the business every day. In addition to greeting patrons and overseeing the staff, he serves as the eatery's primary cook. He said he takes a lot of pride in carrying on the Bella's tradition of quality food served in a comfortable setting by a caring staff.
"Our business was started over 57 years ago by my grandfather who opened the first Bella's in the Bronx. New York." he said. "My father continued the family tradition and I did the same – making it three generations of Vellu's behind the Bella's name." 
In addition to the Burkburnett location. Veliu has a Bella's in Bowie and another in the Dallas/Fort Worth metroplex. It was through his other locations that the learned about Burkburnett. "I had some customers at our former location in Nocona who were from Burkburnett." Veliu said. 
"They said they would like to see a Bella's in Burkburnett and encouraged me to come check the town out. I did just that and fell in love with the community." Vellu said that upon deciding that he was going to make Bella's happen locally, he received "some very worthwhile advice and support" from other business men and women in the community most notably the Burkburnett Development Corporation and its executive director Kellv Bolen. 
"The BDC and Kellv in Darticular, played a major role in my decision to come here," he said. "If it hadn't been for the corporation and the efforts put forth on my behalf by Kellv. then there most likelv wouldn't be a Bella's in Burkburnett. They (the BDC board and Bolen) put together a lucrative offer that closed the deal and made the decision to locate here simple."
Over the course of his restaurant's first year here, Veliu said he has been able to expand the eatery's menu. "Our customers wanted some American food favorites added to the menu and because at Bella's we always give the customers what they want, we expanded it (the menu) to include those favorites," state Veliu.  
"Additionally, our customers want more in regards to being able to to watch sports while dining or having a drink at our bard so we put in five high-definition big screen television sets. Once again, at Bella's, what the customer wants, the customer gets."
Veliu said that he's grateful to the Burk citizenry for support of his establishment. "We've build a pretty solid bar of regular customers here compared to those who haven't dined at Bellas yet, we welcome those to do so soon," he said. 
At Bella's, all dishes are made by Veliu from scratch. He is an adept chef who has mastered the art of menu preparation through his work and experience.  He has been cooking for over 20 years. "I love all aspects of running the business, I especially enjoy spending time in the kitchen preparing dishes just the way the customer wants them. It's the custom meal preparation which is how we do it at Bella's.
Complete with a full-service bar, Bella's stocks a large selection of Italian wines, that compliment the restaurants menu offerings. The establishment has a private party room that can be reserved for special occasions. Bella's caters and in-house, offer daily $5.99 lunch specials and 15 menu selections to choose from.
If you are looking for a clean, affordable place to eat with quality foods, please come see us," Veliu said. As long as the community continues to support us, we're going to be here, ready to serve with a smile. We truly appreciate everyone's support."
Italian Ways Live On | Dec 20, 2010
Times Record News | Burkburnett TX
New Eatery in Burkburnett a Family Affair
Limi Veliu has brought his grandfather's Italian recipes to Blurkburnett. 
Veliu opened Bella's Italian Restaurant last Monday, and he said business is already booming.
"Business has started picking up quickly," he said. We doubled our business on Tuesday, and then it tripled Wednesday."
The name of the restaurant was inspired by Veliu's grandfather, Selka. "When my grandfather was in the Bronx, he named his first restaurant Bella. So we just added a little bit to it," Veliu said.
Bella's Italian Restaurant offer classic Italian favorites, such as baked pasta dishes like manicotti, tortellini and lasagna.  Other specialties range from pasta bolagnese to chicken piccata to lobster ravioli.  
The menu is authentic Italian cuisine, prepared fresh daily.  All of the bread is homemade, and each pizza is made from scratch.
"We just love to bring people some authentic Italian food, really good food here locally so that they won't have to drive to get it," Veliu said.
The staff spends about seven hours making the marina sauce, he said. It takes another three hours to cook the meat mixture that goes in the lasagna.
"I wish it was easier to make homemade Italian food, but it isn't. This is the only way to make it taste good," Veliu said.
One of the perks of making each dish homemade is that the chefs can make anything a customer requests, he said.
"Since we do things from scratch, we can do any changes, any request that the customer wants to make it their own," he said.  "We want people to get exactly what they want."
Veliu is originally from Bari, Italy.  His mother is Albanian and his father was Italian. His father died when he was 3, however, and the family moved back to Albania. Once Veliu finished school, he moved to New York to go to college and work in his family's restaurants.
In 1998, Veliu and other members of his family came to the Dallas/Fort Worth area to open a restaurant.  Several years later, they opened up a location in Bowie, and then in Nocona.  The family still operates Bella's in Bowie. 
Veliu said they decided to expand the family business to Burkburnett because of the strength of the local business community.
"They had contacted us a lot about opening up a new restaurant here," he said. "So far, the community has been so supportive of us.  
The restaurant has a private room available for large parties, and also offers catering services. 
Order Pickup or Delivery!
Order Delivery through Uber Eats, or Order Pickup!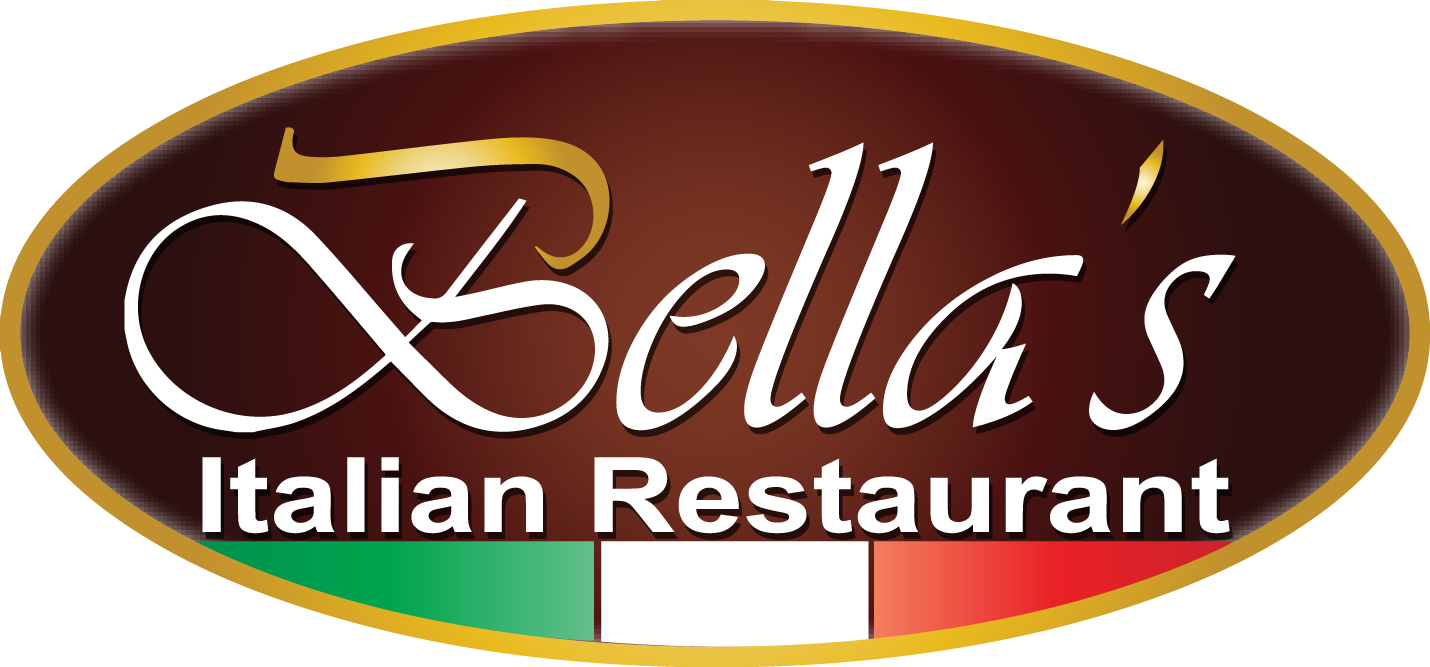 Email Address
bellasitalianrestaurant@gmail.com
Visit Us
511 SE Melody Ln.
Lee's Summit, MO 64063